Current Offers/Promotions
Security Consultant Pros
Contact: Mary Smothers

You Really Should Be Alarmed!!
You Really Should Be Alarmed!!
Call me now to get the #1 wireless security alarm that can turn a home (or office) into a SMART home that can be controlled through your SMART phone, computers, tablets, Apple Watch and Amazon Echo for $0 equipment costs, $59 activation and $0 installation, plus mention this ad for an additional $50 in free equipment. Our specialties include security alarms, video cameras and home automation.
We have a family owned and operated LOCAL security alarm company with 100% customer satisfaction for 10+ years in a row, are the winner of The Best of the Best Security Company in the Hill Country News for 2018 and 2019, PLUS I was an Ambassador for the Leander Chamber of Commerce to several years.
Mary Smothers 512-657-0437 www.getalarmed.net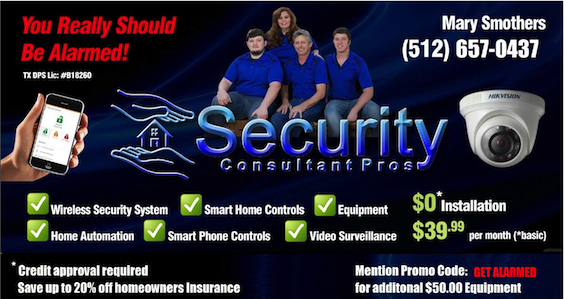 Valid: 3/30/2020 to 6/12/2024
(512) 657-0437 | mary@getalarmed.net | www.getalarmed.net


Valid: 3/31/2020 to 4/30/2024

(512) 657-0437 | mary@getalarmed.net | www.getalarmed.net

Printable Coupon
---
PT Solutions of Leander
Contact: Stephen Hodgson

Free Musculoskeletal Screen
Stop in or call to schedule a FREE screening consultation for any aches/pains/training/performance/wellness concerns with a licensed Doctor of Physical Therapy. We will provide FREE advice and help in determining whether or not your current complaints can best be treated with PT and how to transition into care if necessary.

Valid: 8/25/2021 to 8/25/2022

(737) 757-0838 | stephen.hodgson@ptsolutions.com | www.ptsolutions.com

Printable Coupon
---
Printable Coupon
---
Freedom Fun USA
Contact: Timothy Masters

Members Only Coupon
Coupon
Thank You!
$50
Freedom Fun USA
Worried About An Upcoming Party?
FREEDOM FUN delivers epic events like Laser Tag, outdoor movies & more to your door! Best of all we handle all the details so you have the FREEDOM to ENJOY!
Other amazing events include archery tag®, bubble soccer, foam parties & virtual reality - or - bounce castles, water slides, water tag, yard games & concessions. Surprisingly EASY SETUP & perfect for backyards, the clubhouse, local parks & more!
Don't lift a finger package! - or - "concierge" rocks! Just sit back, relax and enjoy the show with your family & friends. On a budget? Come to our warehouse and pick up the party yourself - or - we can drop it off at your place and pickup the next day!
Call today at 512-981-5557 – let's build something FUN and FABULOUS together! You can also visit us at www.freedomfunusa.com







Valid: 1/7/2022 to 2/6/2022

(512) 981-5557 | care@freedomfunusa.com | https://freedomfunusa.com/

Printable Coupon
---