Current Offers/Promotions
Security Consultant Pros
Contact: Mary Smothers

You Really Should Be Alarmed!!
You Really Should Be Alarmed!!
Call me now to get the #1 wireless security alarm that can turn a home (or office) into a SMART home that can be controlled through your SMART phone, computers, tablets, Apple Watch and Amazon Echo for $0 equipment costs, $59 activation and $0 installation, plus mention this ad for an additional $50 in free equipment. Our specialties include security alarms, video cameras and home automation.
We have a family owned and operated LOCAL security alarm company with 100% customer satisfaction for 10+ years in a row, are the winner of The Best of the Best Security Company in the Hill Country News for 2018 and 2019, PLUS I was an Ambassador for the Leander Chamber of Commerce to several years.
Mary Smothers 512-657-0437 www.getalarmed.net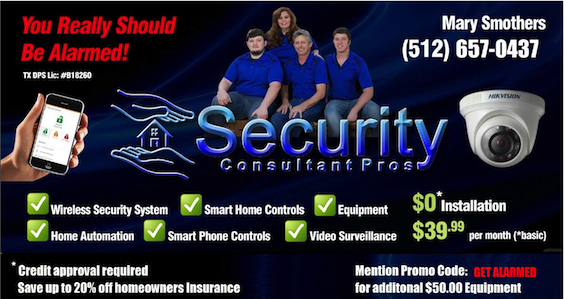 Valid: 3/30/2020 to 6/12/2024
(512) 657-0437 | mary@getalarmed.net | www.getalarmed.net


Valid: 3/31/2020 to 4/30/2024

(512) 657-0437 | mary@getalarmed.net | www.getalarmed.net

Printable Coupon
---
PT Solutions of Leander
Contact: Stephen Hodgson

Free Musculoskeletal Screen
Stop in or call to schedule a FREE screening consultation for any aches/pains/training/performance/wellness concerns with a licensed Doctor of Physical Therapy. We will provide FREE advice and help in determining whether or not your current complaints can best be treated with PT and how to transition into care if necessary.

Valid: 8/25/2021 to 8/25/2022

(737) 757-0838 | stephen.hodgson@ptsolutions.com | www.ptsolutions.com

Printable Coupon
---
CG Real Success with Sam
Contact: Samuel Jones

All Week, All Free *Outdoor, Online, & On-Demand Options



Hello my name is Samuel Jones and I am a new member to the L.C.C. and franchise owner with Camp gladiator. I am Looking to serve and partner with local businesses to make an impact and grow together, so I figured what better way to see if our business could benefit each other than offering ONE WEEK FREE an opportunity to try my services for FREE!







Here is My Linktree for my locations and times : https://linktr.ee/Real.Success.with.Sam





Register Here! Let's Make Fitness FUN Together!


Valid: 6/18/2022 to 7/18/2022

(512) 803-2252 | samueljones@campgladiator.com | www.campgladiator.com

Printable Coupon
---