Coupons
Security Consultant Pros
Contact: Mary Smothers

You Really Should Be Alarmed!!
You Really Should Be Alarmed!!
Call me now to get the #1 wireless security alarm that can turn a home (or office) into a SMART home that can be controlled through your SMART phone, computers, tablets, Apple Watch and Amazon Echo for $0 equipment costs, $59 activation and $0 installation, plus mention this ad for an addiitonal $50 in free equipment. Our specialties include security alarms, video cameras and home automation.
We have a family owned and operated LOCAL security alarm company with 100% customer satisfaction for seven years in a row PLUS I am also an Ambassador for the Leander Chamber of Commerce.
Mary Smothers 512-657-0437 www.getalarmed.net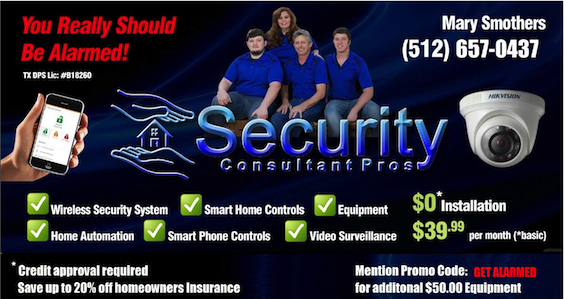 Save


Valid: 6/12/2017 to 6/12/2020

(512) 657-0437 | mary@getalarmed.net | www.getalarmed.net

Printable Coupon
---
Socialight
Contact: Jennifer Denham

Complimentary Marketing Review & Strategy Session
If your Grandma has a Facebook page, your business should be no exception. Meet with our SocialLight team to review your current social media and discuss a strategy that will engage your potential clients and customers across the most appropriate platforms.
It's time to get social with your future clients and bring your business into the spotlight!

Valid: 11/3/2017 to 12/31/2019

info@getsocialight.com | www.getsocialight.com

Printable Coupon
---
Dani Sue Creations
Contact: Danielle Anderson

15% OFF Basket Classes at Dani Sue Creations
Mention this ad and receive:
15% OFF your first Basket Class with Dani Sue Creations!
-OR-
Host a basket class with 4 or more friends and get HALF OFF your basket!
For more info, contact us at 502-797-9945 or email us at danisuecreations@gmail.com

Valid: 7/2/2019 to 12/31/2019

(502) 797-9988 | danisuecreations@gmail.com | www.danisuecreations.com

Printable Coupon
---